It's at the bottom of everything. It gets trampled underfoot all day, is shown almost no respect at all, and, if anything gets dropped, guess where it lands. That's right, I'm talking about the floor of your office.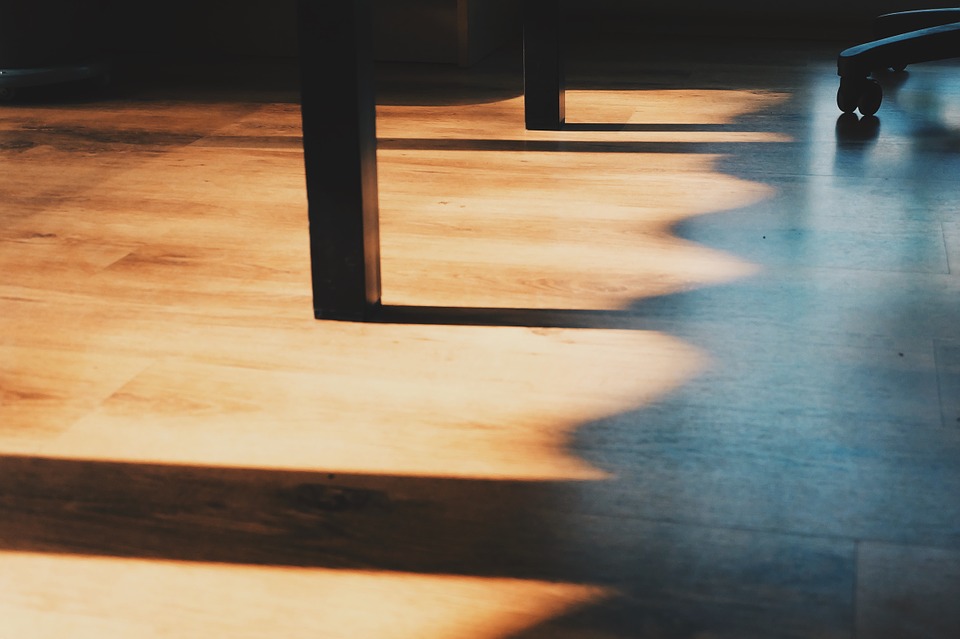 Image via Pixabay
This vital component of any office space in the UAE is criminally underrated. Let's show it the love it deserves and take a look at some of the floor covering options for your next office fit-out project.
Carpet
Some people feel that carpet has grown a little dated, but it remains a classic. What's more, it is incredibly versatile and features an array of different color, style and texture options to help you bring out the very best in your Dubai office space.
Pros
Provides a warm and welcoming impression to visitors
Can reduce noise, particularly in places where there is a lot of foot traffic
Cons
Difficult to keep clean
May not fit in with a sleek, hygienic, modern image


Image Source: Evolve Projects
Hardwood
Hardwood represents a more grandiose option, contributing towards a prestigious and palatial effect in your office. Not as quiet underfoot as carpet, this is not necessarily a bad thing. Some office owners prefer to hear the sound of footsteps on hardwood floors as they believe it adds to the overall professional ambiance.
Pros
Relatively easy to clean when compared to carpet
Creates a classy, high-quality look
Cons
Can get damaged and scuffed, particularly when moving heavy furniture across the surface
Relatively expensive, particularly over large areas


Image Source: Evolve Projects
Ceramic Tiles
Ceramic tiles are certainly a divisive choice in a Dubai office, but the sharp, clinical effect they provide makes them ideally suited to certain types of business.
Pros
Probably the easiest to clean of all the potential floor surfaces for an office
Creates a very smart, cool and clean effect, particularly suited to organizations in scientific and medical fields
Cons
Not suitable for all types of business
Can be damaged if anything heavy is dropped onto the surface, although replacements are simple to install
Image Source: Evolve Projects
Linoleum
An old floor covering staple, linoleum might not be the most fashionable choice, but it is functional, and, if used correctly, can be easy on the eye too.
Pros
Simple to clean
Very easy to install, even over large areas
Cons
Less stylish than other floor covering options
Can be marked by sharp edges
Image Source: Evolve Projects
Inspired yet? Or do you need some help with the decision? No matter how far you are along in the process, the Evolve Interiors team are here to lend a hand.
This is what integrated software and hardware looks like in 2017. For more information on achieving the optimal balance in your office space, get in touch with the Evolve team today.

Are you looking for the right property and location to set-up your business?
For brands, entrepreneurs and large commercial enterprises looking to set foot in UAE or expanding existing regional operations, do check out an interesting investment opportunity at Westburry Tower 1, Business Bay, Dubai or check the JustProperty.com for other commercial property options. Evolve has successfully delivered many projects in various locations across UAE and can provide references and site visits for interested local and global brands who intend to expand, grow or restructure their workspace in the near future.
Are your in search of a Experienced Turnkey Interior Fit-out Solution Provider?
If your answer is Yes! and you want to learn more about our services and to schedule a consultation, give us a call at +971-4-3697106, email us at info@evolveinteriors.com.

Won't you want to be up to date with the trends, tips, insights and more about Interiors Design and Fit-out Solutions?
Never miss our interesting previous posts, please click the link below to reach our blog home page. Or alternatively follow us on Linkedin, Twitter, Facebook, Pinterest or Google+ and you will never miss our knowledge sharing blog posts and updates periodically. We commit not to overwhelm you with updates as we follow international standard best practices in all aspects of our business.
Today's Blog Topic: Down to Earth: Floor Covering Options for Your UAE Office

Image Source: Perspective concept renderings done by Evolve's highly experienced and innovative work space design team for their clients. Other project images are actual images of projects delivered by Evolve's Experienced Turnkey Solutions Teams
Commercial Property availability link Source: www.justproperty.com
Keywords: Water features, trends 2017, interior fit-out, interior design, sustainability, green interiors,Keeping Your Interior Fit-out Green, Form and Function, Combined Technology and Interior Space Design