It's important to give a good impression to guests. Your office's reception area might be the first point of contact between a visitor and your company, so it is vital to get these opening interactions right.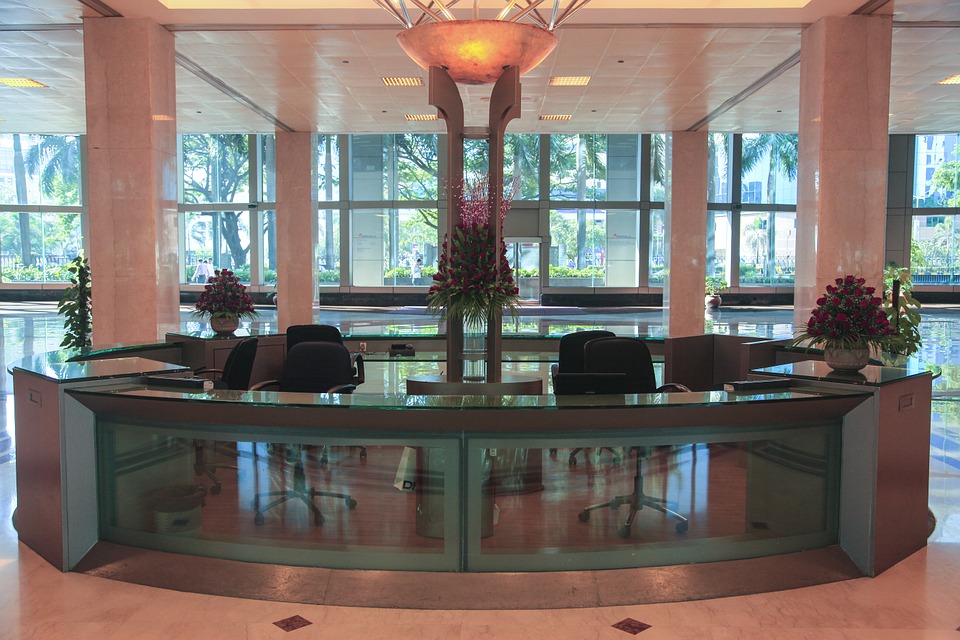 Image via Pixabay
Here's how to tailor your Dubai office fit-out project to meet this challenge, and to get the very best out of your office entrance area.
Objective-oriented Spaces
Different offices are designed to achieve different objectives. If you are a recruiting firm, you might have to meet with clients, candidates and partners on an almost daily basis. Perhaps these visitors arrive in groups, or individually – once or twice a day or just a couple of times a week. The space needs to be large enough to accommodate these visitors, with a clearly visible reception desk and comfortable waiting area.
Image Source: Evolve Projects
Alternatively, your office might only receive a few visitors each year. In this case, you need to know what sort of goals these visitors need to achieve, and must design a space which enables these goals to be met. The starting point for both approaches is knowledge and understanding of your objectives for the space.
Company Identity
When people visit your office, the space is the frontline for your company. It acts as the face, as the point of interaction between your corporate identity and the outside world. So what is this identity?
Perhaps you want to display the prestige of what you have achieved. Maybe you simply want to create a warm and welcoming impression on visitors. These are both key components of your identity as an organization.
Image Source: Evolve Projects
Flooring is Key
Practical elements are also key to achieving the perfect reception area, not least the flooring you select. Carpeting injects warmth into a space, while hardwood implies history, grandeur and accomplishment. Ceramic tiles, on the other hand, deliver an impression of clinical excellence and sleek cleanliness.
Image Source: Evolve Projects
Remember acoustics too. If you want to further intensify the grandeur, the sound created by solid wood and other resonant materials can add this extra element of status.
Smart Security
Another practical concern; security. As the entrance area to your office is the point of connection between inside and outside, you need robust, but smart, security measures in place to protect your business. These could include e-beacons which let you know who is entering and exiting, electronic door locks, meeting and greeting personnel, and other practical security features.
Achieve the perfect entrance area for your business; get the Evolve Interiors team on the case. Give us a call today.


Are you looking for the right property and location to set-up your business?
For brands, entrepreneurs and large commercial enterprises looking to set foot in UAE or expanding existing regional operations, do check out an interesting read The Opus, Business Bay, Dubai or check the JustProperty.com for other commercial property options. Evolve has successfully delivered many projects in various locations across UAE and can provide references and site visits for interested local and global brands who intend to expand, grow or restructure their workspace in the near future.
Are your in search of a Experienced Turnkey Interior Fit-out Solution Provider?
If your answer is Yes! and you want to learn more about our services and to schedule a consultation, give us a call at +971-4-3697106, email us at info@evolveinteriors.com.

Won't you want to be up to date with the trends, tips, insights and more about Interiors Design and Fit-out Solutions?
Never miss our interesting previous posts, please click the link below to reach our blog home page. Or alternatively follow us on Linkedin, Twitter, Facebook, Pinterest or Google+ and you will never miss our knowledge sharing blog posts and updates periodically. We commit not to overwhelm you with updates as we follow international standard best practices in all aspects of our business.
Today's Blog Topic: Making an Impression: Getting the Entrance Area Right in Your Office Space
Image Source: Perspective concept renderings done by Evolve's highly experienced and innovative work space design team for their clients. Other project images are actual images of projects delivered by Evolve's Experienced Turnkey Solutions Teams
Commercial Property availability link Source: www.justproperty.com
Keywords: Water features, trends 2017, interior fit-out, interior design, sustainability, green interiors,Keeping Your Interior Fit-out Green, Form and Function, Combined