It doesn't usually pay to get all misty-eyed about the 'good old days.' Looking backwards with rose-tinted eyeglasses on gets us nowhere. However, it is sometimes tempting to pine for a simpler time.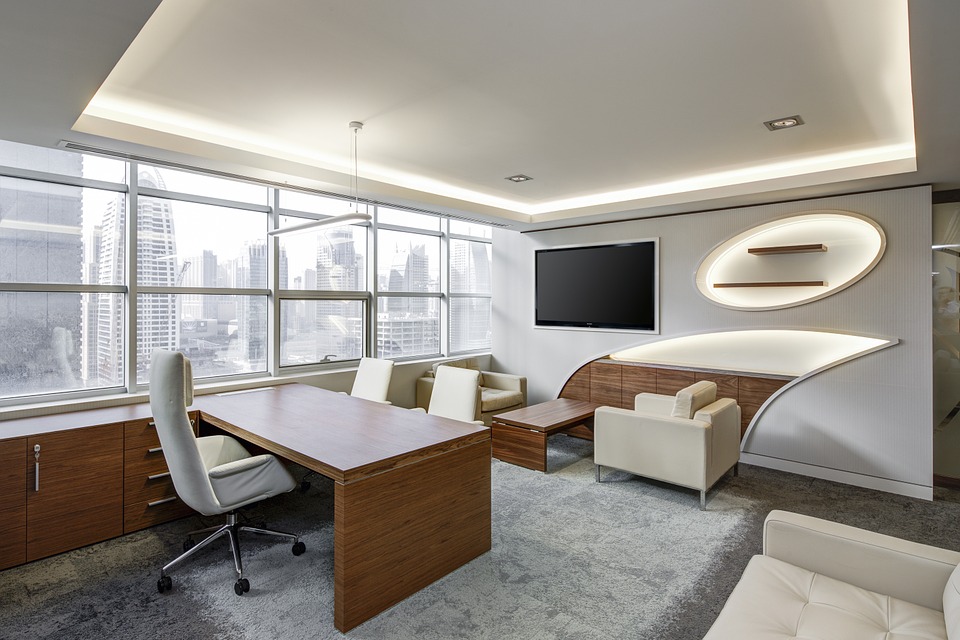 Image via Pixabay
Sure, there were problems then, but we knew where we stood with those problems.
Now what have we got? We've got rapid advancements in digital and physical technology, both of which are being integrated into new office designs faster than you could connect to dial up internet back in 2001.
These solutions came along and solved all the old office problems. They also brought with them lots of new, fresh challenges to get us all worried.
The Old Problem: The Dreaded "Out-of-Office" Response
Once upon a time, we could only get any work done if we were actually physically in our offices during working hours. Planning to work remotely? Don't even bother.
The Modern Solution: Mobile Devices
Mobile devices and reliable internet roaming has turned this on its head. Now, remote working is not only possible; it is made simple by integrating the necessary technology into your UAE office fit-out project.
Image via Evolve Projects
The New Challenge: Security Breaches
The trouble is, many of these mobile devices, particularly the personal ones, are unsecured. This can cause all manner of troubles for businesses aiming to balance security with convenience and capability.
The Old Problem: Flailing in the Dark.
Looking back from the age of business understanding, it is hard to believe that it wasn't always this way. But it really wasn't. It simply was not possible to effectively store and wield that much data without investing a small fortune in servers.
The Modern Solution: Integrated Data Management Solutions and Cloud Frameworks in Offices
No room for a server room onsite? Integrated data solutions have you covered nowadays, helping you use all the data you need.
Image v
ia Evolve Projects
The New Challenge: Complacency and Too Much Data
Businesses now find themselves with so much data to play with that they don't know what to do with it. This makes it difficult to truly join the age information and understanding. Of course, this is not a major problem but it does represent a challenge that the modern office must face.
The Old Problem: Expensive Downtime
In the old days, a blown fuse could mean an afternoon off of work or even more. The result of this was, of course, serious losses for a business.
The Modern Solution: Energy Smart Technology and Monitoring Capabilities
These days, smart offices can easily keep track of their energy usage, helping you to spot where and when a problem might occur. Digital asset management systems also make scheduling repairs much easier.
Image via Evolve Projects
The New Challenge: Too Much Uptime
With no downtime to worry about, be sure to give your team regular breaks!
Want to learn more about how you can leverage the latest technological advances in your UAE office fit-out? Get in touch with the Evolve team today.

Are you looking for the right property and location to set-up your business?
For brands, entrepreneurs and large commercial enterprises looking to set foot in UAE or expanding existing regional operations, do check out an interesting investment opportunity at Binary Towers, Business Bay, Dubai or check the JustProperty.com for other commercial property options. Evolve has successfully delivered many projects in various locations across UAE and can provide references and site visits for interested local and global brands who intend to expand, grow or restructure their workspace in the near future.
Are your in search of a Experienced Turnkey Interior Fit-out Solution Provider?
If your answer is Yes! and you want to learn more about our services and to schedule a consultation, give us a call at +971-4-3697106, email us at info@evolveinteriors.com.

Won't you want to be up to date with the trends, tips, insights and more about Interiors Design and Fit-out Solutions?
Never miss our interesting previous posts, please click the link below to reach our blog home page. Or alternatively follow us on Linkedin, Twitter, Facebook, Pinterest or Google+ and you will never miss our knowledge sharing blog posts and updates periodically. We commit not to overwhelm you with updates as we follow international standard best practices in all aspects of our business.
Today's Blog Topic: How Technology Solved the Old Problems, and Brought with It New Challenges

Image Source: Perspective concept renderings done by Evolve's highly experienced and innovative work space design team for their clients. Other project images are actual images of projects delivered by Evolve's Experienced Turnkey Solutions Teams
Commercial Property availability link Source: www.justproperty.com
Keywords: Water features, trends 2017, interior fit-out, interior design, sustainability, green interiors,Keeping Your Interior Fit-out Green, Form and Function, Combined Technology and Interior Space Design