Looking for the best new ideas for your office design project? You came to the right place!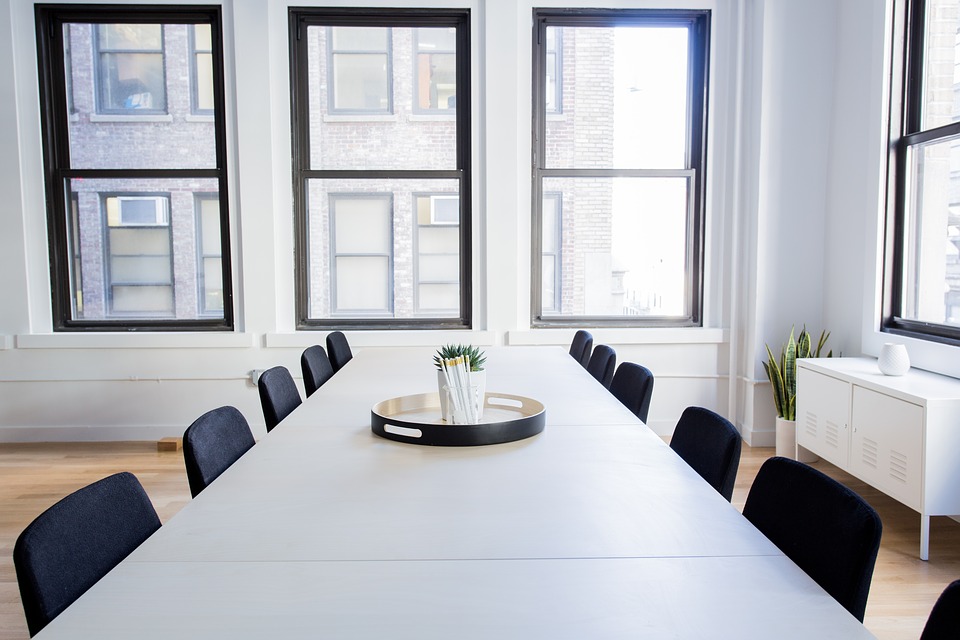 Image via Pixabay
Open/Closed Hybrid Spaces
While the days of the traditional cubicle office probably are numbered, experiments with open plan concepts have not been the unqualified successes many expected them to be. Noise complaints, stressful environments and lack of structure have made adoptions of open plan offices a little unpopular.
Image source: Evolve Projects
Instead, what we are seeing among the latest UAE office fit-out projects is a hybrid approach. This involves open plan areas coupled with enclosed spaces and pods. This combination tends to deliver the best of both worlds.
A Focus on Narrative
Now, more than ever, the office is an extension of the company itself. The ethos of the organization must be represented within the office space and a story must be told relating to what the company is all about.
Image source: Evolve Projects
This might sound a little abstract but it is an important part of creating a cohesive and effective workplace in 2017. If you are a modern tech startup, the feel of the space must reflect that; if your work is more related to artisanal crafts, incorporate this into the design concept.
Personal Wellness
Personal wellness is something to take very seriously in 2017, particularly in the office. Make sure your office space is designed to keep your employees fit, healthy, happy and productive. For more information on this, take a look at our recent post on supporting personal wellness at work, and the results that this approach can provide to you.
Image source: Evolve Projects
Green Spaces
Where would you rather work: in an aluminum box or in a verdant and lush space with lots of greenery and flowering plants? Chances are it is the latter. Forging a connection with nature can be difficult when we spend all day at work in an office in the big city. It need not be impossible.
It is easy to see why such an approach has taken off in Dubai and it is well worth incorporating into your next office fit-out project.
Integrated Technology to Expand the Office
The office just got a whole lot bigger, not so much in terms of physical size as in capability. Integrated technology, such as company mobile and tablet devices, webcams and reliable high-speed internet, all have a role to play in the modern office.

While work used to end when a team member strayed outside the building, remote work is now supported by the available technology. Make sure your teams are similarly supported and watch your productivity levels soar!
Image Source: Evolve Projects
Have an idea for your office design project in Dubai? Share it with the Evolve team and let us turn it into a reality.


Are you looking for the right property and location to set-up your business?
For brands, entrepreneurs and large commercial enterprises looking to set foot in UAE or expanding existing regional operations, do check out an interesting read O14 Tower, Business Bay, Dubai or check the JustProperty.com for other commercial property options. Evolve has successfully delivered many projects in various locations across UAE and can provide references and site visits for interested local and global brands who intend to expand, grow or restructure their workspace in the near future.
Are your in search of a Experienced Turnkey Interior Fit-out Solution Provider?
If your answer is Yes! and you want to learn more about our services and to schedule a consultation, give us a call at +971-4-3697106, email us at info@evolveinteriors.com.

Won't you want to be up to date with the trends, tips, insights and more about Interiors Design and Fit-out Solutions?
Never miss our interesting previous posts, please click the link below to reach our blog home page. Or alternatively follow us on Linkedin, Twitter, Facebook, Pinterest or Google+ and you will never miss our knowledge sharing blog posts and updates periodically. We commit not to overwhelm you with updates as we follow international standard best practices in all aspects of our business.
Today's Blog Topic: Top Office Design Concepts of 2017
Image Source: Perspective concept renderings done by Evolve's highly experienced and innovative work space design team for their clients. Other project images are actual images of projects delivered by Evolve's Experienced Turnkey Solutions Teams
Commercial Property availability link Source: www.justproperty.com
Keywords: Water features, trends 2017, interior fit-out, interior design, sustainability, green interiors,Keeping Your Interior Fit-out Green, Form and Function, Combined